Christian/Columbia College's first famous alumna was Lavinia Ellen Ream who is known for sculpting the statue of Abraham Lincoln still on display in the U.S. Capitol. While attending classes in the 1857 – 1858 academic year, she displayed an artistic nature through her excellence in poetry, painting, and music. Her portrait of Martha Washington still hangs in St. Clair Hall as does a portrait of Vinnie by Jane Foster.
Vinnie was born in Wisconsin and frequently moved with her family as her father found work. The year of her birth is somewhat of a mystery. Based on the age she was listed as in various U.S. censuses, she could have been born any time from 1838 to 1852. 1847 is the date usually given, but this would have made her ten years old when she came to Christian College. In light of the quality of her poems, for example, it would be more likely for her to have been born before 1847.
In 1861, Vinnie moved with her family to the nation's capital where her father became a government mapmaker. Through the influence of friends in 1862, she became one of the first few female postal clerks hired by the U.S. government.
A giant step for Vinnie came in 1863 when Congressman and Christian College trustee James S. Rollins took her to sculptor Clark Mills' studio at the U.S. Capitol. When Mills gave her a chance to try sculpting, he recognized her talent and hired her as an assistant. While at Mills' studio, Vinnie met many prominent political individuals, giving her the opportunity to create medallions and busts of some of them, earning enough to be able to quit her post office job and sculpt full time.
Through the intercession of her previous connections, Vinnie was allowed to observe President Lincoln in the White House for a half hour each day starting in December 1864 in preparation to create a bust of him. Vinnie said that Lincoln was swayed to allow this when he learned that she was a poor young lady who was trying to support her family and herself with her work as an artist. She had nearly finished the bust when Lincoln was assassinated in April 1865, and she subsequently completed it.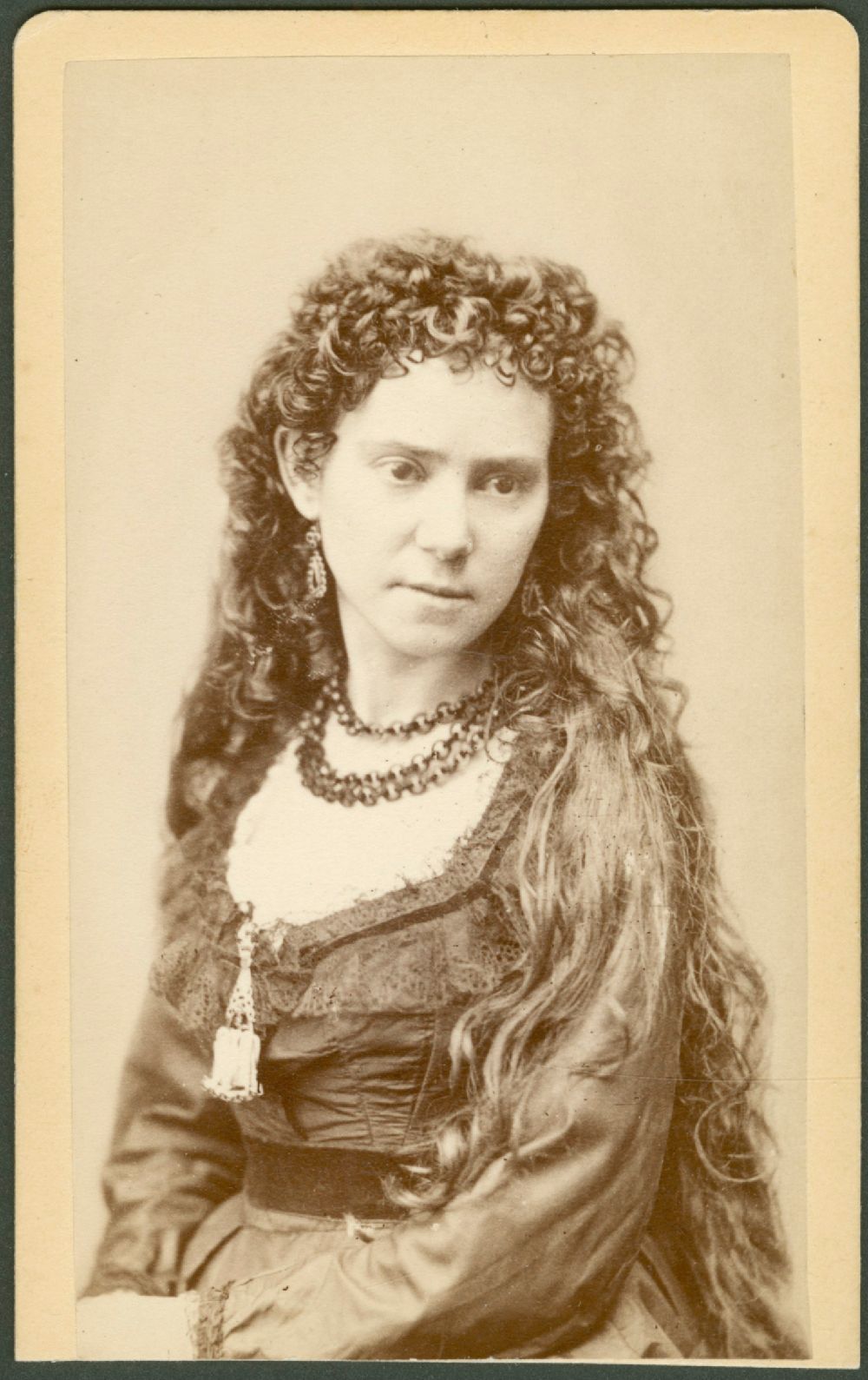 Portrait of Vinnie Ream by Mathew B. Brady circa 1870, National Gallery of Art
Astonishingly, Vinnie in 1866 won the commission to create a memorial sculpture of Lincoln for the U.S. Capitol, thus becoming the youngest artist and the first woman to be awarded a commission for a statue by the U.S. government. In the process of this commission being granted, the U.S. House Committee on Public Buildings and Grounds received a petition in support of Vinnie Ream signed by President Andrew Johnson, members of his Cabinet, 31 senators, 110 current and former representatives and 31 other prominent individuals.
In her studio at the Capitol, Vinnie worked for two years creating the statue first in clay and then in plaster. In 1868, she was ordered to vacate the studio after Senator Edmund Ross of Kansas had cast the deciding vote against finding President Andrew Johnson guilty of the impeachment charges against him. Because Senator Ross boarded at the Ream family's home on Capitol Hill, it was thought that Vinnie had influenced his vote. Vinnie moved everything out of the studio except for the clay model of Lincoln that would have been damaged by transporting it elsewhere. She asked for help from her friend Congressman Thaddeus Stevens, and through his intervention, the U.S. House, passed a resolution to allow her to use the studio for another year.
When Vinnie finished the model in 1869, it was shipped to Italy where she oversaw it carved into Carrara marble. The completed statue was unveiled and dedicated in the Capitol in January 1871 and is still revered as a national treasure.
In 1875, Vinnie received another federal commission to sculpt a statue of the Civil War hero Admiral David G. Farragut. The ten-foot bronze statue was cast from the propeller of the USS Hartford, Farragut's flagship during the Civil War. Dedicated in April 1881, the statue stands in Farragut Square in D.C. Vinnie thus became the sculptor of Washington's first major monument to a naval officer.
Vinnie Ream's sculpture of Abraham Lincoln in the Capitol Rotunda, Architect of the Capitol
In May 1878, Vinnie married Lieutenant Richard L. Hoxie, who was the best friend of Admiral Farragut's son. The wedding was attended by many prominent individuals, including President Ulysses S. Grant. Vinnie and Richard had one son whom they named Richard Ream Hoxie. Two years after her marriage, Vinnie finished the Farragut statue. She then retired, as her husband wished, to concentrate on being a wife and mother. The Hoxie home in D.C. became a lively social center.
Near the end of her life, she sculpted the former Iowa governor Samuel Kirkland. This statue was submitted as one of the two that would represent Iowa in the U.S. Capitol's Statuary Hall. Before her death in November 1914, she also finished the model of a statue of Sequoyah, a Cherokee chief who invented the Cherokee alphabet. Another sculptor cast the Sequoyah statue in bronze, and Oklahoma submitted it to the National Statuary Hall Collection.
During her career, Vinnie sculpted well-known Representatives, Senators, and generals as well as other prominent individuals, such as Horace Greeley, George Caleb Bingham, Franz Liszt, and Cardinal Antonelli.
Vinnie Ream made her way from her humble and simplistic origin to leave her mark in the highest American social and political circles once dominated by men. Her talent and her basic understanding of human nature combined with her strength and determination carried her with wit and style to successes previously denied to women of that time.
Biographical essay by Stafford Librarian Mary Batterson